Industries are shifting to a faster and more easily consumable type of learning content. Today's workforce is always on-the-go, and taking time off to attend conventional in-person training events is becoming less feasible. Microlearning is the perfect solution to this radically changing learning landscape.
It can help deliver short and just-in-time content modules on the go in a mobile-ready environment. Such modules are engaging, accessible, easy to update, and measurable.
By leveraging microlearning in corporate training, employees can merge the training into their workflow as the courses are short and can be completed quickly. Microlearning minimizes distractions because the content nuggets are to-the-point and relevant, making it easier for people to focus on shorter modules.
Here are the different ways you can leverage the benefits of microlearning for your corporate training:
1. New Hire Orientation and Onboarding
Training new recruits is essential to make them aware of the different aspects of the organization and their job roles and responsibilities. 
Microlearning can provide clear and relevant information on company culture, values, mission, compliance, skills required for specific job roles, necessary corporate jargon, etc., in an appealing, digestible manner that's more engaging than reading voluminous employee handbooks.
Short videos with images can help familiarize employees with the company's campus, offices, essential stakeholders, and colleagues. Sending personalized messages and a welcome speech by the CEO can make them feel valued. Relevant training increases the chances of retention.
2. Upskilling Sales Teams
Sales teams require mobile-ready, just-in-time learning that they can directly apply to their tasks at hand. It is beneficial to provide crisp learning assets on relevant topics like
Managing the customers

Making a sales pitch

Using relevant software for streamlining the sales process

Latest industry trends and practices
Short animated videos with illustrations, background narration, infographics, and sound can furnish useful information in an engaging manner. 
Prospects' Frequently Asked Questions (FAQs) and answers can enable them to handle customers' general queries better. Cheat sheets, refreshers, flashcards, or mini-courses can help the sales reps review their learning before an appointment with a new client and improve their performance regularly.
3. Supplementing Macro Learning
Microlearning can help reinforce online training with follow-ups and reminders to enhance the existing training module, webinar, or instructor-led experience. Large chunks of information regarding complex learning topics can be broken into easily-digestible bite-sized microlearning videos for quick walkthroughs when needed. Summary videos at the end of the lessons can be beneficial as well.
Microlearning platforms like NuVeda's CALFTM can provide you with relevant practice exercises, quizzes, polls, surveys, assessments, flashcards, etc., to help complement the more extended training modules, allow learners to revisit their online training, and improve retention. The platform supports gamification (leaderboard, badges, automatic certification, simulations, etc.) to help them- 
Apply their acquired skills in a real-world scenario 

Increase their completion rates

Establish a friendly competition 

Boost engagement 

Strengthen their knowledge base
4. Safety Training
Emergencies like accidents or mishaps demand that all helpful information be conveyed in the shortest possible time and be easily accessible. You will need to provide employees with knowledge on evacuation route maps, handling people, using the safety equipment, identifying and preventing workplace hazards, etc., in an easily-understandable manner.
Charts, images, videos, and animations, can make such content more engaging. Simulations can help enhance the learner's real-life application of the acquired skills. Moreover, such online training can be made easily accessible across all iOS, and Android devices through robust microlearning platforms like CALFTM. 
5. Compliance Training
Short, interactive microlearning modules can be incredibly effective for making employees aware of the new rules and regulations, updates to the existing ones, latest news events, and changes in the industry trends. All the key compliance concepts can be introduced through documents or textual images with illustrations, accompanied by short explainer videos.
Tests and actionable takeaways at the end of the modules help reinforce the necessary compliance concepts and their application.
6. Product Knowledge Training
Being aware of the brand offerings is essential for the sales reps as well as all the other employees. Microlearning can be immensely helpful for training with timely updates about the company's products and services, their features, new additions to the offering portfolio, and changes/updates to the existing ones.
Short video product demos, infographics for dos and don'ts, and simulations for virtual hands-on experience can communicate details of the different products among the employees. The modules' interactive documents and textual images can emphasize important product features and benefits as 'need-to-know' information.
Ways to Implement Microlearning the Right Way
Here are a few things you need to keep in mind to implement corporate training using microlearning successfully:
1. Develop Your Learning Goals
Identify the outcomes that your organization wishes to achieve from its training programs before starting to churn out microlearning modules. Also identify the knowledge gaps of employees and their training expectations. This will help you create content that is just right for them.
2. Personalize the Learnings
Provide employees with content that suits their individual needs and learning preferences. Not everyone learns in the same manner and at the same pace. So you can consider surveying employees to determine the best way for them to learn. 
During the training, leverage AI-powered Microlearning platforms like CALFTM to provide employees with personalized training recommendations so they can customize their learning journeys based on their learning styles, organizational roles, and interests.
3. Experiment with Multimedia
There are various media formats available for designing microlearning modules, such as:
Short videos (explainer, how-to videos, product demonstrations, post-training summaries, animations, etc.)

Audio files (short podcasts, expert talks, anecdotes and lessons, general Q&A sessions on the training modules, etc.)

Games and rewards (flashcards, assessments, simulations, quizzes, surveys, polls, leaderboards, badges, automatic certification, game points, etc.)

Infographics (statistics, dos, and don'ts, quick tips, guidelines, points to remember, etc.)

Interactive documents (PDFs with embedded multimedia on comprehensive topics like brand offerings, policies, compliance, organizational processes, etc.)
Some employees might prefer learning through short videos, while others might consider infographics ( graphs and images) ideal for online training. Hence, experiment with such rich learning assets to prevent the modules from being similar, repetitive, and boring. Adding variation in the content delivery makes it more engaging for learners and improves knowledge retention. 
4. Make Learning Accessible
Easy accessibility is one of the most prominent benefits of Microlearning. Once the content becomes mobile-ready, employees won't see it as a distraction from their work. They will be able to fill their skill gaps anywhere and anytime. And when such relevant and just-in-time content produces immediate results in their job roles, they will be motivated to continue learning. 
Microlearning platforms like the CALFTM make simplified online training available on the web, tablet, and native mobile apps (iOS and Android) and help deliver fantastic learning experiences on the go. 
5. Evaluate the Training Outcomes
Regularly evaluate the effectiveness of your programs instead of continually producing different modules for your employees. See how the training helps the learners, where it lacks in meeting their requirements, and how it contributes to your business outcomes. This will help you improve your training offerings and provide employees with higher-quality content.
CALFTM provides 30+ customizable and detailed business reports along with smart drill-down analytics. They come with both general and user-defined metrics (ROI, productivity, cost-reduction, etc.). These will help you assess the business and behavioral outcomes of your online training. You can get instantaneous learner-specific reports based on their learning journeys, completion, and course attendance.
To know more about how you can leverage the benefits of Microlearning for your corporate training and enhance the process with CALFTM, talk to our learning expert or schedule a demo.
Subscribe To Our Newsletter
Get updates and learn from the best
Poll When a new employee joins a company, it is very instructive to understand the various perspectives of the different stakeholders in this employee's journey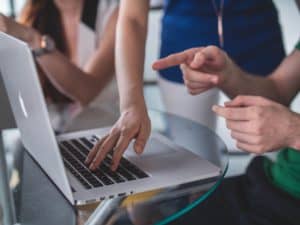 Client story
CALF™ LMS Use Cases for CSR Initiatives Successful implementation of a CSR initiative, be it diversity, volunteer training, or eco-literacy, involves delivering volumes of subject