Our vision is to build the
Google of Learning
At NuVeda, we understand that there is great joy in learning more, from children to adults to organizations and businesses.  We also understand that feedback is a critical component of Learning. That is why we built the AI-powered learning platform
CALFTM
 –
C

ontinuous

A

pplication of

L

earning

F

eedback
in order to unleash the power of "
The Google of Learning
".
CALF™ v4.0 is launched; NuVeda adds its 50+ client
CALF™ footprint expands to Singapore, South Africa, Australia, UK, and Malaysia
CALF™ v1.0 is launched with native iOS and Android Apps; Clients added in India and the USA
Develops the NuCLO™ platform; Acquires first client
Opens offices in Minneapolis, USA
Exits content development business; "Google of Learning" idea is born
Develops content for Sony, Samsung, and ABB
Launches its first product, "The Communication Suite" with Elaine Clark
Be Open, Honest and Constructive
Always focus on Customer Value
Be Accountable for what you do
Give whenever and wherever possible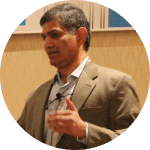 Balasubramanian Krishnan
CEO
Architect of "The Google of Learning" idea. Founder, CEO and Chief Learning Evangelist, NuVeda. Hands on experience selling, designing, and delivering e-learning solutions including LMS systems, e-learning content, instructional design and authoring tools. Author of "The Google of Learning" - an innovative approach to learning technologies 10-20 years into the future.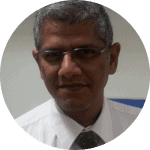 Venkat Balasubramanian
Chief Delivery Officer
Result-oriented leader, keen planner and strategist with demonstrated abilities in coaching and mentoring, effective communication, risk taking and risk management, strategic planning, program development and management, product implementation/rollout, customer relationship management, quality Products and processes.
They love us and we think you will too