There are a lot of Learning management systems that are available in market today. While it is debatable which is the best, we have listed out some of the essential features which you should look for before buying a learning management system.
Beautiful Interface and an amazing user experience
A seamless and comfortable user experience is a must have as this is the deciding factor to the relationship between the learning management system and the organization. It is very important to be able to manage, deliver and participate with simplicity and ease of use.
The process of creating courses, programs or curricula should be transparent and done with a minimum number of clicks, but with the maximum of flexibility.
Today's learning happens mainly through formal and informal ways over smartphones and tablets. This allows the students or participants to take part in learning activities anytime and anywhere. Native iOS and Android apps enhance the user experience, and must be considered essential.
Course and content management
The learning management system should support the latest international standards and be able to upload documents,videos and other learning materials for the users to consume.It would be nice if your LMS has the ability to customise your courses.Registration and assignment of courses should be doable for an individual participant or for a group of participants.
Broadcasting of your organisational information will help you to keep updated with latest activities.
ILT, Blended and Online Learning
Support for multi-modal learning methods such as Instructor-Led Training (ILT), Blended Learning and online learning are a must. Facilitators and Administrators must have the ability to mark attendance at a training program, and have the abilities to conduct instant polls as needed.
Although there is an increasing tendency of LMS-es today to
downplay standards such as SCORM etc., we find that many organizations require support for these standards as relevant today as before. In addition, newer compliance standards are now being adopted, including the TinCan or Experience (xAPI).
App Notifications and Emails
The ability to provide App and email notifications & reminders to engage the users is critical. Additionally, the ability to customize email templates and provide flexibility to facilitators is also critical.
Surveys and Assessments are key ingredients of any course and the flexibility in providing the course creator to create various types of quizzes and surveys is essential. These include:
The ability to create statements and questions that have multiple choices,Texts, Likert scales, fill in the blanks, etc.
The ability to randomize questions for each learner.
The ability for manual and automatic grading.
The ability to give weightage for your marks.
And, in some cases where your LMS is also a recruitment platform, the provision for proctoring during exams.
It is essential that your LMS provide a way to certify users after completion of their courses. This serves as a badge of honor in their peer groups and also as an accomplishment mechanism.
Gamification is a must have attribute of a learning management system with an organization that incentivizes the process of learning.It also helps in nurturing a learning environment by creating a friendly and constructive competitions.It engages learners and it is the best practice to accelerate learning within an organization.
The reports are a very critical aspect of the learning management software system.It is very imperative to keep track of the progress of the learner as well as tracking the adoption of the learning and Identifying the learning path.
Nearly all the above and many more critical features are readily available with our CALF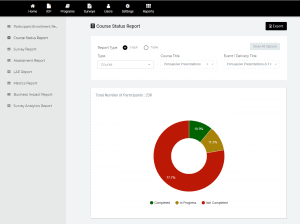 Explore our thought leadership
Similar articles on learning management